"I appreciate your software's simplicity, and that it's also complete, thorough and affordable! Thanks! Your technical support people are terrific as well."
-- Lisa, Forgotten Angels
by Larry Weaver

Major Gifts, part 2, takes a look at major donor solicitors: those people in your organization who can, will, should be working with your major donors to build stronger relationships with them and/or ask them for donations. FundRaiser Basic can help with some of the aspects of the relationships discussed. One of these aspects is simply associating a donor solicitor with the donor. For that, one of your three (two, prior to version 2.x) donor-based codes could be used very effectively. By default, these three codes are labeled in Basic as "Category", "Donor Source", and (in 2.x) "Newsletter". These labels can be changed, so you may want one of them to be "Donor Solicitor", or simply "Solicitor". You can change the label by going to Options, then General Preferences, then to the General tab. The "User-Defined Category Captions" section is where you change the label names.
If you use one of the category code options for solicitor names, you can simply create them as they happen. For instance, your volunteer, J. Smith, agrees to work with prospect A. Jones because they know each other socially. On A. Jones' record in FundRaiser, you would create a new code for "J. Smith" in the newly-labeled "Solicitor" code drop-down. It might look something like this: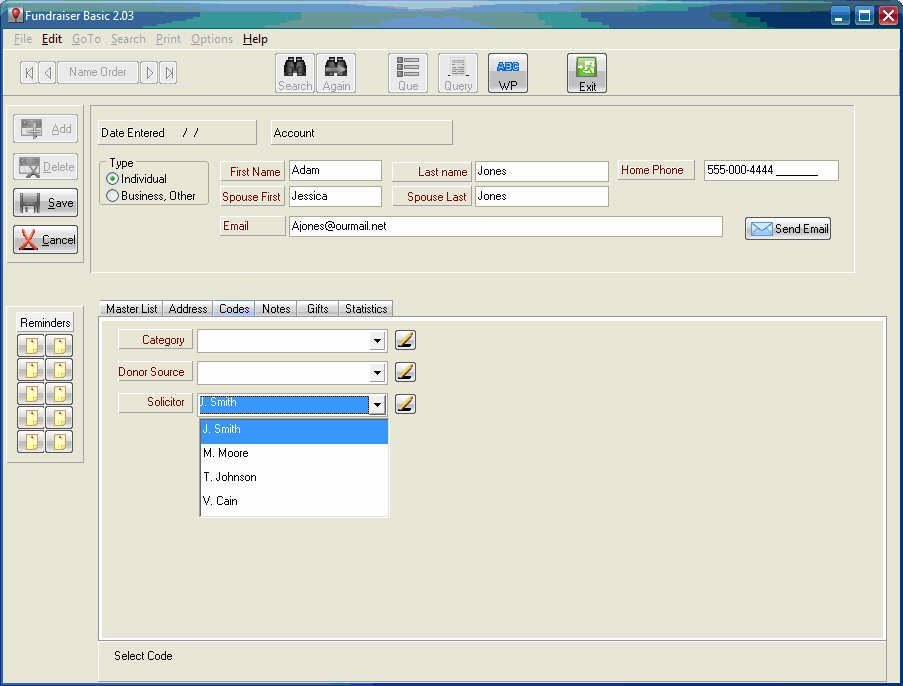 This can help in a couple of ways, in that you will always be able to pull a query that includes all donors assigned to any of your solicitors, and that you can easily print any of those lists with information pertinent to soliciting donations. So, if your solicitors need to know not only who they are to work with, but also how much those folks have given in the past, when they gave, why they gave (based on donation source/motivation codes), and so forth, you'll be able to provide that info.

You can use the donor notes section to enter any personal contacts your solicitor has made, based on their feedback or notes, etc. And, when someone gives a gift that comes as a direct result of a solicitor having asked for the gift, you may want to code the gift to reflect that, using the "Source" code on the gift record. In fact, you may want to have gift Source codes that are identical to the donor "Solicitor" codes, but it's certainly up to you. If you do it this way, you'll be able to pull a report of all the gifts that have been attributed to a particular Solicitor in your organization. Great to be able to do when you get ready to thank all of your volunteers for their hard work, and to show what monetary benefit they've had directly through solicitation of gifts.
Resources
Major donors and FundRaiser Basic by Larry Weaver
Major gifts, part 1: What makes a gift major by Tony Poderis
Major gifts, part 2: Working with donor solicitors by Tony Poderis